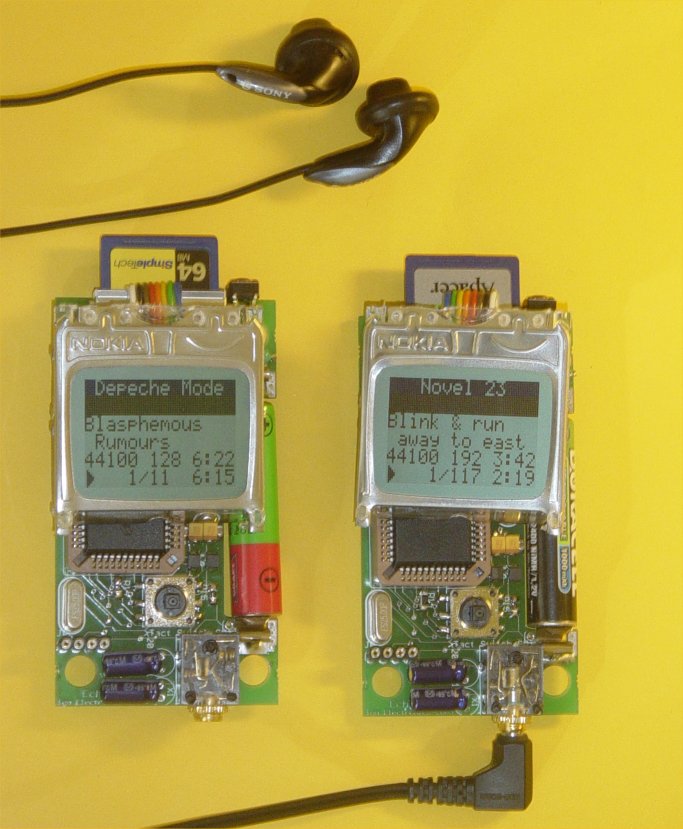 The EchoMp3 is a small DIY* MP3 player. It's cheap and of excellent quality.
64, 128, 256, 512MB and 1, 2, 4 GB MMC and SD(HC) cards

used as storage.

FAT (FAT16) and FAT32 supported.
Low power operation with a single AAA (HR03) 1V2 Ni-Mh battery.
Runs on a 18LF452 or 18LF458 at 20 MhZ.
Up to 256 kBps bitrate at 44,1 kHz supported. VBR may peak at 320 kBps.
ID3 v2.3 tags supported.
Full user control (volume, track, pause, skip, directory) with a 5-way micro joystick.
Real time display of bitrate, sampling rate, elapsed time, songnumber, ...
LCD contrast adjustable by user.
Directory scrolling and file fragmentation support. Directory depth up to 10 accepted.
Shuffle (random play) and extended character set enabled.

SDHC (High Capacity) Cards now supported.

Here are some compatible cards.

New:

Serial interface control.
High quality stereo DAC with a S/N ratio of typ. 87dB.
THD of only 0.1% typ.
On/Off pushbutton.
Software is 100% upgradeable through an RS232 bootloader connector.


Voice Recording

in PCM-format with same hardware is now possible! Look here for the source code.
* Do It Yourself.
Schematic & pcb (Eagle 4.11e), hex file available. Player Software Updated on November 24, 2009.
Discontinued as of Feb.2011. Check out our new EchoMp3 v3.1 instead.